Nela Richardson, ECON '05: Chief Economist, Redfin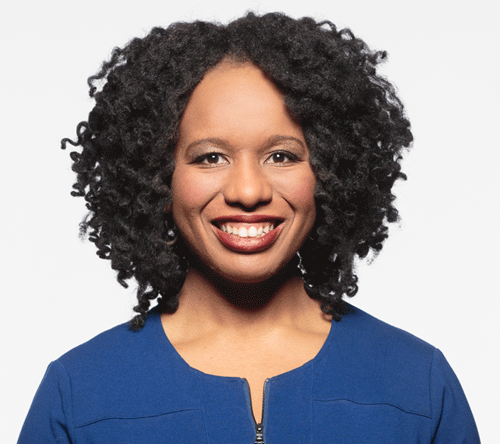 For Nela Richardson (ECON Ph.D. '05), Chief Economist at online real estate brokerage firm Redfin, economics represents much more than just a profession. It's a way of thinking about and viewing the world.
"It's like the closet organizer of the social sciences," Richardson said. "There's a place for everything."
On Wednesday, December 21st Richardson will return to her alma mater to speak to graduates at the College of Behavioral and Social Sciences' winter commencement.
"I'm honored. I remember sitting in that seat and feeling really positive when I was graduating because the world was so open and new," Richardson said. "But in the time since I've graduated, the world has changed quite a bit."
Since leaving the university in 2005 with her Ph.D. in hand, Richardson's career has afforded her a front-row seat for the roller coaster ride the country's economy—and housing market in particular—has been on. She took her first job at mortgage giant Freddie Mac right as the housing market was about to hit its peak and then in the aftermath of the crash, ended up helping to craft policy and regulations intended to keep such a scenario from ever playing out again in the future.
Richardson has also worked at Bloomberg, the Commodity Futures Trading Commission and Harvard University's Joint Center for Housing Studies. Now at Redfin, she leads a team of data scientists and the company's housing research program and regularly provides insight for media outlets such as the New York Times, Wall Street Journal, CNBC and CNN.
"Everybody is really an economist by paying their bills, pumping their gas," Richardson said. "But everybody's view is different. Being able to relate what they're seeing to a bigger picture is what I really love to do."
Richardson currently lives in Washington, D.C., is married to a fellow economist and has two sons – whom she refers to as her "domestic policy team." A native of Indiana, Richardson says she was initially drawn to the University of Maryland because of its proximity to Washington, D.C. and the reputation of the economics faculty. Ultimately, she found UMD to be a place that shaped her professionally as well as personally.
"The professors there connect to policy. They're not just in their own little world disconnected to what's going on," she said. "I actually had my first baby when I was a graduate student and I found it to be a real family environment. Some of my best friends to date I met at Maryland and we're still connected even though they're all over the world now."
Richardson doesn't plan on encouraging December graduates of the Class of 2016 to follow in her footsteps because "the path has changed entirely." Instead, she hopes to inspire them to achieve a level of rewarding success that can be shared with others.
"Rewarding success fills you and just regular success can kind of drain you," Richardson said. "That's the role of family and friends to help you pick those opportunities that reward you."
Daniel M. Gropper, ECON '81: Dean of the College of Business, Florida Atlantic University, Boca Raton, Florida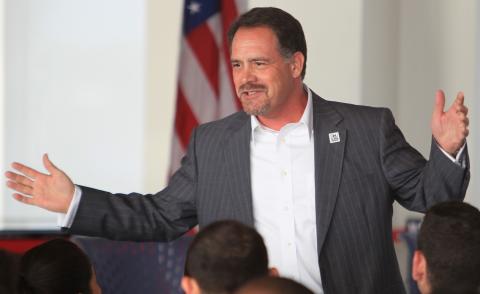 Dan Gropper
was appointed Dean of the College of Business at Florida Atlantic University in Boca Raton in July 2013.  He graduated from the University of Maryland with his B.A. in Economics in 1981, and has fond memories of his days in College Park.  "Dr. Allan Gruchy was my advisor in Economics, and was also a great professor.  In his class, I not only learned comparative economic systems, I learned lessons about good teaching that I have used throughout my career.  He knew every student's name in the class, and he would call on us randomly to discuss the course readings.  It was OK not to know every answer, but it was not OK to come to class unprepared. But it was not just a fear of reprimand or bad grades – we knew Dr. Gruchy cared about us, and we did not want to disappoint him."
"The undergraduate honors seminar was also excellent - the opportunity for interested undergraduates to hear from a wide variety of notable faculty members about their research was outstanding, as many of these faculty only taught graduate classes.  It was a great experience to hear Dr. Martin Baily discuss various approaches to the economic valuation of a human life and how that affected public policy; to see Dr. Arvind Panagariya get so excited presenting some trade theorems, even when I found the math largely incomprehensible; to listen as Dr. Peter Murrell presenting the Lemons problem, and Dr. Wallace Oates talking about natural resource economics issues. Dr. Oates was my advisor for one of the papers I wrote in that class, and he was very encouraging and generous with his time.
"I went to Florida State University to start graduate school, and in the second semester of my Masters program I was given an unusually early opportunity to teach my own class in Principles of Economics.  The Maryland program prepared me well for graduate studies, and the faculty at FSU encouraged me and helped open the door for numerous opportunities.
Dan worked at the Florida Public Service Commission in 1985, and then joined the consulting firm of Economic Research Services for several years. He then went to Auburn University, where he moved up through the academic ranks from instructor to chaired full professor, and also served as Associate Dean for Graduate and International programs in the College of Business.  He also moved into an administrative role, leading Auburn's MBA programs, and working with the faculty and staff the programs grew in both quantity and quality, adding new options and breaking into the national rankings for the first time.  After serving as Associate Dean at Auburn, he was offered the Dean's position at Florida Atlantic University in 2013.
At Florida Atlantic University, Dr. Gropper leads one of the largest AACSB-accredited business schools in the United States, with over 7000 students.  FAU's part-time MBA programs became ranked among the nation's best by Bloomberg BusinessWeek in 2015, and the online graduate programs rose in the U. S. News & World Report national rankings to among the top-30 in 2016. Dr. Gropper's educational philosophy is that while business students need to know the most current technical skills in their area of specialization, they also need a broad education in the arts and sciences so that they can think critically, communicate effectively, and continue to learn as their careers progress.
Eric Golman ECON/ENSP '15: Co-founder of organic coffee company Javazen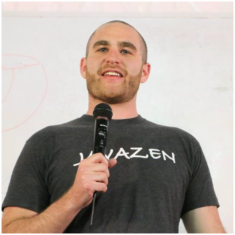 Eric Golman '15 vividly remembers taking a tour of the University of Maryland during his senior year in high school and seeing a presentation for UMD's Hinman CEOs program.
 "(There was) a statistic about how a promising amount of people in the program start a company while in college and continue to build it after graduating," recalled Golman. "I looked at my Dad and said 'I want to do that'."
A Fairfax, VA native, Golman would go on to major in economics and environmental science and policy at UMD. He also joined the ranks of Hinman CEO successes when he co-founded the award-winning organic coffee company Javazen in March 2014 alongside Aaron Wallach and Ryan Schueler.
In fact, it was while studying for an ECON200 midterm that Golman had his first cup of coffee.
"I noticed that the best part of every day was the coffee that I would prepare and drink, so I decided to make that the full part of my day!" Golman said.  
Though Golman's day-to-day CEO duties vary, he typically manages Javazen's finance, operations, legal and marketing services.
"The problem-solving skills that I learned in my economics courses helped in making difficult decisions for my business," Golman said. "Additionally, the abundance of entrepreneurial support that the university offers has played a major role in our growth. The reason I came to UMD was for the entrepreneurial ecosystem and community that it offered."
Javazen is now sold in more than 200 stores across the country and online. Recently, Javazen also won the 11th annual Cupid's Cup Competition inspired by Under Armour founder and CEO Kevin Plank. The trio took home $75,000 as well as an additional $5,000 for winning the Audience's Choice Award.
Golman advises today's UMD students to think "BIG."
 "The power of being young is the ability to recover from mistakes quickly- this fades as life demands more responsibilities and expectations," he said. "Now is the time to take big risks- even if it fails, the experience that you will gain by taking a risk and building something that you are truly passionate about can be the launching pad for your next big career move."
In addition to growing and maintaining Javazen's influence, Golman and his co-founders are now working on building a new category of food and beverage products focused on health and wellness.
"We see the category that we are creating as a multi-billion dollar opportunity in addition to an ability to make a healthy impact on billions of people every single day," Golman said. "I am extremely proud of what we have accomplished at Javazen, but it is important to note that we are just getting started!"
Al McGartland (Ph.D. '84), National Center for Environmental Economics Director and Chief Economist at the U.S. Environmental Protection Agency (EPA)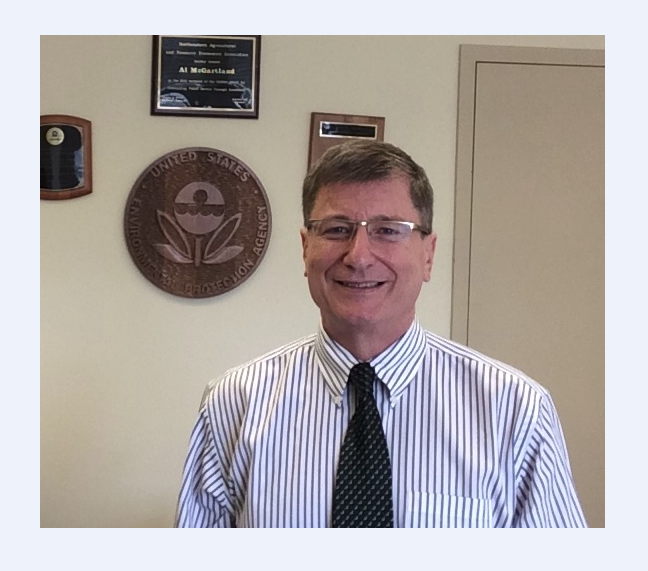 As Director of the National Center for Environmental Economics and chief economist at the U.S. Environmental Protection Agency (EPA), Al McGartland (ECON Ph.D. '84) knows the important role graduates from the Department of Economics can play in the future of the planet's health.
"Every environmental problem is a result of human behavior," McGartland said. "The idea that you would attack a problem caused by human behavior without behavioral scientists would be very unwise."
In his position at the EPA, McGartland advises senior leadership on regulatory analyses, science and environmental policy, while leading assessments on the benefits and cost-effectiveness of various environmental programs.
However, when McGartland first arrived at the University of Maryland, he had no intentions of working in environmental policy. A native of Pittsburgh, he graduated from Duquesne University with an accounting degree and decided to study economics at UMD in order to follow in the footsteps of one of his favorite undergraduate professors. McGartland said plans for his future began to take shape after the arrival of a new professor in the UMD Economics Department named Dr. Wallace Oates. Oates—a distinguished University professor who died in October of 2015—was considered a pioneer in the field of environmental economics. Oates inspired McGartland to apply his interest in economics to helping the environment after just one course.
"I never looked back after that," McGartland said. "The idea of being in this whole new area was very appealing."
McGartland considers his time at the University of Maryland his transformative years where he grew in confidence, made life-long friends and met his future wife with whom he's been married for 35 years. Yet he wants the Class of 2016 to know that although they've worked extremely hard to get to graduation, their hard work is far from over.  
"Economics is changing dramatically and the problems economists are tackling are becoming more important," McGartland said. "I think (today's graduates) are in a unique position to make an even bigger contribution than any of their predecessors."